Who is eligible to get a service dog?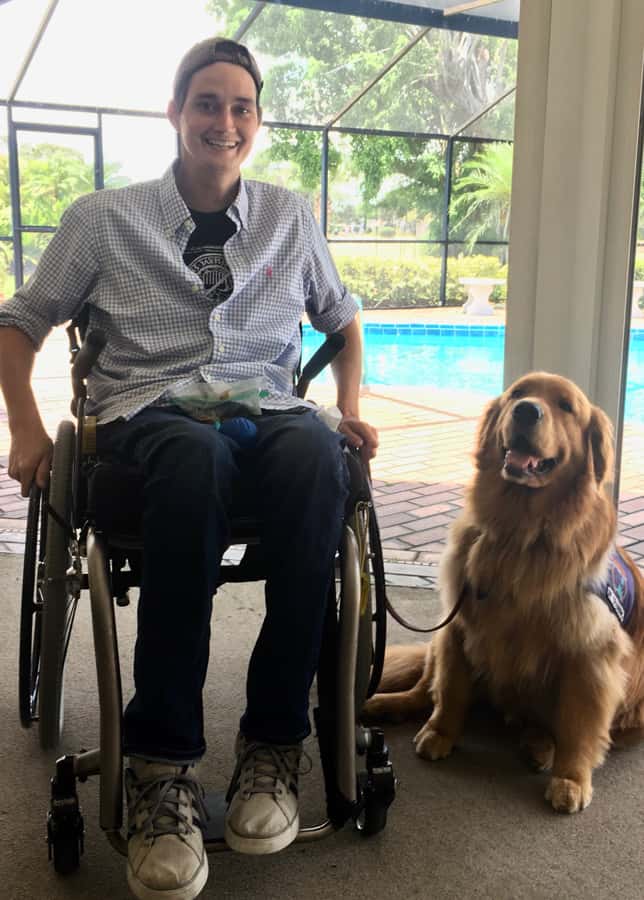 Genesis Assistance Dogs, Inc. provides service dogs in Florida only for those with disabilities that restrict their mobility – who must use a wheelchair or other assistive device – and those who struggle with fine motor skills. Anyone with a disability such as these will be considered for getting a service dog in Florida, provided that their doctor gives input on their application specifically indicating why a service dog would help with their daily activities.
All applications must also be approved by our advisory board, which will check to make sure that the applicant truly needs a service dog, and that the applicant is physically and emotionally able to provide for the service dog. If an applicant is approved to get a service dog, they will be placed on the waiting list. Applicants are notified if their application is accepted or rejected.
Service dogs for Balance Dogs, Autism, PTSD, Emotional Support, or Medical Alert are not provided by our organization.
What organizations should clients look at for different kinds of service dogs?
It depends on the type of assistance dog a client needs. Typically, we will suggest people research Canine Companions for Independence, Southeastern Guide Dogs, Assistance Dogs International, and K9s for Warriors.
How long does it take? Does it cost money?
As of January 2022, our waiting time from an initial application being approved to getting a service dog can range between 1-5 years. You will be notified of the date of your placement on the waiting list, though your service dog may come earlier or later than this time.
There is no cost to our clients to be placed with an assistance dog from Genesis Assistance Dogs, Inc.
What types of service dogs are available?
All of our dogs are Golden Retrievers who come from reputable, high-quality breeders within Florida. They possess three-generation pedigrees, with every single dog in the pedigree passing all health clearances for hips, elbows, eyes, and hearts. All of our dogs are placed with current vaccinations, and are on monthly worm, tick, and flea prevention products.
What are assistance dogs capable of?
Our service dogs are trained to help open doors and cabinets, retrieve dropped items, turn light switches on and off, find cell phones, open doors, and perform other skills relevant to the needs of our clients.
What support can service dogs receive after placement?
Our team is committed to helping in any way we can in monitoring the health, care, and well-being of our service dogs in Florida.
What are a client's responsibilities towards a service dog?
As a client, you will be required to submit log sheets recording your service dog's training for at least six months after getting one. You will also be required to provide us with a letter of health every six months from a certified veterinarian to ensure all vaccinations, flea, tick, and heartworm records are up to date.
You are also responsible for continuing to utilize all commands and tasks your assistance dog has been trained to perform. Every service dog is evaluated on an annual basis to ensure that their placement is successful. The client is also responsible for the health and well-being of their service dog. (Food, Veterinary care, Grooming, etc.)
Can younger clients take service dogs to school?
Although the ADA technically permits service dogs to go wherever their partner goes, in practice, different schools have different policies regarding service dogs. Usually, a student in Florida requires an IEP (Individualized Education Plan) or a 504 plan in order to have a service dog with them. If another student in the classroom is allergic to dogs, that person may be transferred to another classroom rather than the student with the service dog. Other than this, there are no definitive federal guidelines, and clients should reach out to the school or school district in question to determine what their policies are regarding assistance dogs.
How long will a client keep a service dog?
Genesis Assistance Dogs, Inc. guarantees that service dogs may be kept for life. It is our policy never to separate a service dog from a client unless there is proven neglect, abuse, or non-compliance with our guidelines and procedures. Eventually, a service dog must be retired when they reach an age where performing their tasks is too difficult. This typically happens after 6-8 years. Genesis Assistance Dogs, Inc. does not require clients to give up their service dog at retirement age, so long as the client can provide for the second service dog given to them.