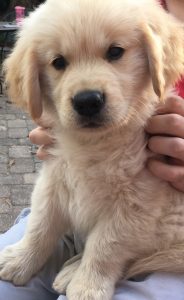 Genesis Assistance Dogs, Inc. is looking for a few good women/men/families who are willing to meet the challenge and help us to get our mobility assistance dogs fully trained and equipped to help those waiting to regain their independence. If you have ever thought about getting involved in something that is unique, challenging, rewarding and fun, this is your "Golden" opportunity! Please consider being a Genesis Assistance Dogs Puppy Raiser.
There has been a lot of recent media coverage regarding service dogs. As a result, public awareness of the assistance that highly trained dogs can provide to people with disabilities is increasing. As people become aware of what tasks service dogs can provide, the number of applications increases. The requests for service dogs in Florida is rising almost exponentially. The sad truth is that the availability of well-trained service dogs in Florida is not meeting the demand for placement with qualified patients who are applying for help. Why? There are not enough people willing to puppy raise.
Don't be scared. Puppy raising does not automatically mean you will be involved with potty training an 8 week old Golden Retriever. What it does mean is that as a Genesis Assistance Dogs Puppy Raiser your strengths and preferences will be paired with the appropriate age group of dog to provide guidance and reinforcement of trained behaviors and introduction to new ones. Some people love the infancy stage (8 weeks to 8 months old) where housebreaking, playtime and basic commands are taught. For others that puppy thing is not appealing at all but they would love to work on socialization, traveling within the community and reinforcement of behaviors already learned. Still others might prefer the adult stage where our assistance dogs learn behaviors specific to their intended human companion.
Genesis puppy raisers are never left to their own devices. Regular training sessions with our Director of Training, Jennifer Bielen are required so that she may evaluate progress and provide counseling as needed. In addition to working with Jen, our puppy raisers are considered a part of our extended family where you will have the opportunity to meet our other puppy raisers, dogs in training and clients who are matched with their assistance dogs. You are welcome to attend public appearances and participate in organization events.
Genesis Assistance Dogs, Inc. does not believe in mass production of service dogs. We call it the Genesis Difference. We are a small but mighty organization and as a puppy raiser you will not be reporting to some distant area manager who is overseeing 10 puppy raisers at a time. You will be working one on one with our trainer, and it is not unusual to have contact periodically with a Board member who will check in to see how things are going for you and your trainee.
If knowing that you are participating in a life changing project that will provide assistance to a person with a disability sounds like the volunteer opportunity that you've been looking for, please complete an application to become a Genesis Assistance Dog Inc. puppy raiser. You will never know the great sense of accomplishment you will experience if you don't apply. Watching your pup continue the journey to being placed in service is remarkably and indisputably satisfying.
We need you now. You will receive so much more in return than you could ever have imagined when you help us provide service dogs in Florida to those in need. Be a part of the Genesis Difference.