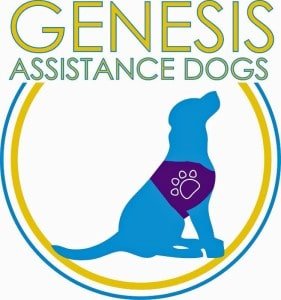 If you are seeking a medical alert dog for conditions such as epilepsy, seizures, diabetes, cardiac problems, hearing or vision problems, your application for an assistance dog from Genesis would be denied. While medical alert dogs are indeed considered to be service animals, Genesis Assistance Dogs, Inc. does not train dogs for these disabilities.
People who are seeking an emotional support dog for autism, anxiety/depression, PTSD or those seeking a therapy dog or facility dog, your application for an assistance dog from Genesis would be denied, as these types of dogs are not considered service animals and are not protected under the Americans with Disabilities Act. By definition, under the ADA, "a service animal is defined as a dog that has been individually trained to do work or perform tasks for an individual with a disability. The task(s) performed by the dog must be directly related to the person's disability."
When you decide to submit application for a mobility assistance dog from Genesis Assistance Dogs, Inc. we take it very seriously. Our dogs are specifically trained to provide support to individuals who have disabilities that result in altered gait, balance issues, those who rely on a wheelchair or other assistive device, and those who struggle with fine motor skills. If you do not satisfy one or more of these criteria, your application for an assistance dog from Genesis would be denied. However, having a disability that affects your mobility or fine motor skills will not automatically qualify you either.
If you have applied for a Genesis Assistance Dog, your initial application will be reviewed by the advisory board to determine if we may be able to assist you. You will be contacted to either schedule an initial interview and/or be asked to complete a detailed application. Should the board determine that we cannot assist you in your search for a service dog, you will promptly be notified.
Our detailed application will require input from your doctor specifically indicating why they believe a mobility assistance dog will help you with your daily life activities. There has to be a demonstrated need for assistance in performing mobility-related tasks that will help you to gain independence you may not currently enjoy. Information regarding your disease/disability and its potential for progression is also part of Genesis consideration process.
We encourage our applicants to understand that being paired with an assistance dog is a life-changing experience that requires dedication and hard work. It won't always be tail-wagging and playful dog kisses. Being teamed with a dog is physically, emotionally, and financially challenging for many. As we consider our applicants we deliberate your health and safety and that of our assistance dogs to insure that you are up for the task. That includes your living environment which must provide for the appropriate and comprehensive care of the dog at all times. If you live alone and take ill, what is the plan for caring for your dog? If you live with other family members, is the entire family welcoming of the dog and are they willing to help with its care should you be unable to physically manage its care, exercise, and veterinary needs. Someone will need to be a designated care giver in your absence if you are hospitalized or infirmed at home. If Genesis doesn't feel confident that the appropriate care of the dog is possible, your application for an assistance dog from Genesis would be denied. Your health and well-being and that of our assistance dogs is our first priority.
Genesis Assistance Dogs, Inc. takes great care in reviewing applications and approving eligible candidates to the wait list. You will always know where you stand with us, and the date of your placement on the waiting list doesn't necessarily determine the period of time you will wait before being matched with a mobility assistance dog. Our goal is to make the perfect match between service dog and qualified applicant. Currently, our wait time is approximately 2 ½ – 3 years. Don't be discouraged. There is much you can do to be learning about caring for a service animal, learning about compliance with ADA regulations and time to reflect on your expectations of what it will be like to have your assistance dog by your side 24/7. The rewards far out-number the wait time!